BEAUTY AND MASSAGE
BUA - SAWAN
New Bua Sawan branch opens in The Netherlands.   For more information, visit our blog 'Bua Sawan in The Netherlands'
Traditional Thai Beauty & Massage
Everyone is welcome to enjoy a wonderful massage or facial treatment at Bua Sawan - Beauty & Massage. Bua Sawan was established in Ban Klaeng in 2007. We are a family business, where the highest quality, service, and cleanliness are our standard. Moreover, our friendly and professional staff is here to serve you and uphold our 100% satisfaction. Also, we provide information about the treatments we offer and match these with your desires.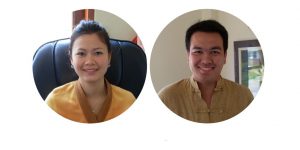 We look forward to welcoming you to Bua Sawan
Khae and Note Vongsom
Our Massage treatments ensure complete relaxation
Our busy lifestyle is one of the causes of daily stress. The human body responds to stress. This result in headaches and muscle aches. Prolonged stress can even lead to reduced health resistance, bowel and stomach complaints. Thai massages are well known for relieving daily stress, muscle aches, and headaches. Besides, the massage gives a boost to the blood circulation. It is the ultimate remedy for inducing relaxation and reducing mental stress. We train our certified masseuses on a regular basis. So, you are sure of the highest quality and the latest treatment methods.
Start feeling more relaxed
Together with you, we determine what the most effective treatment is. After only one treatment the stress is reduced . You will be absolutely relaxed and calm state of mind.
We're always happy to hear from you! To book a massage, please call us or fill in the form at the contact page.
Cafe Lounge Bar: Kafae – Coffee and Food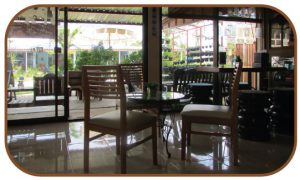 We also welcome you to our café lounge bar at our resort. Kafae - Coffee and Food is a cozy lounge bar where you can relax after your Thai massage. Enjoy freshly ground coffee with homemade cake. Besides, we serve various snacks, beers and wines and Irish Coffee.
The lounge bar has satellite TV, a big TV screen. So, you do not miss any sports broadcast. More over, we offer free WIFI to check your email or social media.
The lounge bar is free to enter for all people. Of course you are not charged admission simply to enter the bar. The bar is open from 9 am until 12 pm. So, enjoy your food and drinks, check your email, and watch your favourite sports on TV at Kafea Lounge bar. Follow this link to read more about Spa Kafae.