Our Story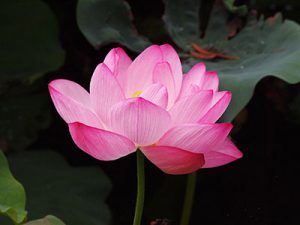 Khae and Note started the "Bua Sawan - Beauty and massage" story in the beginning of 2007 in Ban Klaeng. Khae's grandfather Bunmi was inspired by the lotus flower. So, he proposed to name of  Bua Sawan. In Thailand, the Lotus flower is part of the offering ritual to Budha. The lotus is a symbol of happiness, prosperity, and completion of the purpose of life.
Since 2005 more tourists discovered the coastline between Ban Phe and Chanthaburi. Popular in this region is the island, Ko Samet. To increase the tourism in Ban Klaeng, the government started the development of this region by stimulating new businesses.
Khae and Note noticed that there was a gap between the cheap massage at the beach and the expensive spa hotels. They wanted a spa with the quality standards of the expensive spa hotels, but at moderate prices. Moreover, Bua Sawan is accessible to everyone.
Bua Sawan - Beauty and Massage is a family owned business. Bua Sawan stands for a friendly atmosphere, honesty and excellent care for customers. Furthermore, Bua Sawan commits to the development of their staff members. The certified staff is well trained with the latest massage and facial treatments. Moreover, all the staff members have decent labour conditions with good terms of employment.
Lounge Kafae Bar
In 2015, Lounge Kafae bar was the next step to offer new services to customers. Lounge Kafae is a  bar where you can enjoy coffee and food. Here, the customer can drink real espresso! Besides, customers can have a breakfast or lunch. In the evening everyone is welcome to have a drink, like beer, wine or Irish Coffee. Not to mention, in the Kafae there is a satellite television and free WIFI.
Khae and Note are convinced that the offered facial and massage treatments with excellent services make the best positive contribution to body, mind, and relaxation.
Staff of Bua Sawan
Our dedicated team is a friendly and a professional team. For you, the certified masseuses serve you great treatments, like a Traditional Thai massage or an Oil massage. Also, facial treatments should be served.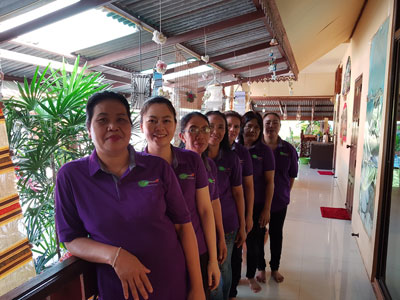 Background of Khae and Note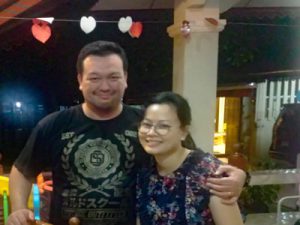 Bua Sawan and Lounge bar Kafae are managed by Khae and Note Vongsom. Both Khae and Note speak English. Khae lived in the Netherlands for 10 years. She graduated with Beautician successfully. In addition, Khae followed various massage courses at the well-known 'Wat Pho - Thai traditional Massage School'. Her husband Note has a bachelor degree at the Ramkhamhaeng University in Bangkok.